More Bounce 2 da Ounce- EMG News 12/02/09
Ok, so we over here at Evotek Media Group think it might be cool to present some news on a semi regular basis, some of it relevant, most of it however, NOT. Read on Bitches…

Hello, and welcome to EMG news!! Haaaaaa
Stuff You Look At:
Ok, so in recent "Heroes" (AD* 11/30/09) news, Magneto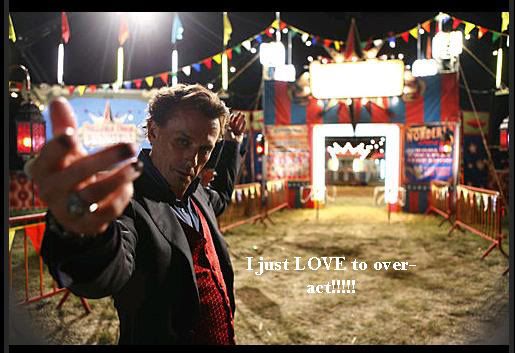 is close to finishing his round-up of the "Brotherhood of Evil Mutants".
Quicksilver, however,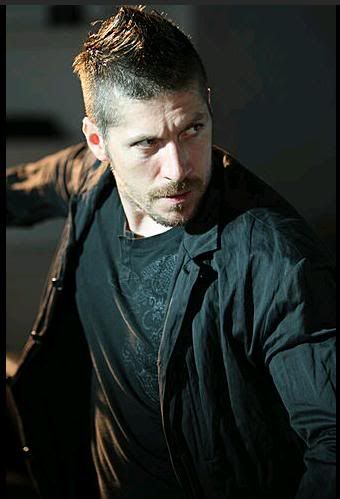 has finally run away from the Brotherhood, cuz he's a bitch like that.
Flash FTW!!!!!


Barry Allen's Flash anyways
Um yeah, that's all I'm watching right now, oh snap naw The Prisoner!!!
The exclamation points are for the 1967 version, one of the best all time series ever! That is fact. The story revolves around a British secret agent that is kidnapped and sent to some unknown island somewhere. On this island they put this guy through all sorts a shit to try and find out why he quit his job so suddenly, and oh man this guy is just fucking smart and has Ali's hand skills, which is essentially a recipe for KICKASS. Seriously this guy can fly planes and build cars and boats. And he's the original guy on crazy island, he could figure out ABC's "Lost" in about 3 minutes. Check this ultra badass out;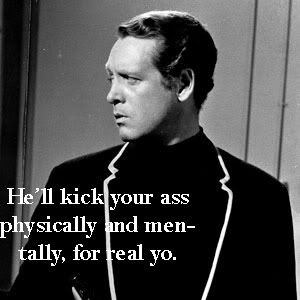 Anyways they remade it on AMC, and it just fucking sucks. like seriously. They've changed the storyline drastically, and each change seemed to be for the worst. It seems like they just "shat" all over the story and called it "modernization". I guess. But Magneto's in it,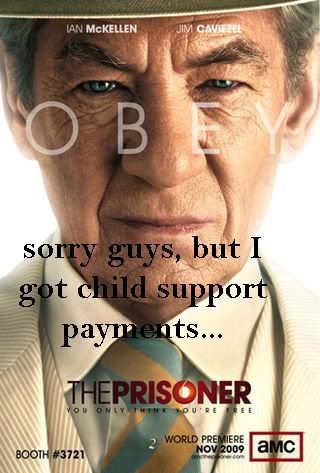 yeah, that one.
Ok so AMC's only saving grace is that they have the ENTIRE 1967 series on their site!! Link below
http://www.amctv.com/originals/the-prisoner-1960s-series/
Do yourself a favor and look at the old one before you look at the new, or skip the new series entirely.
Games:
In video game news, predictions were true regarding Call Of Duty Modern Warfare 2.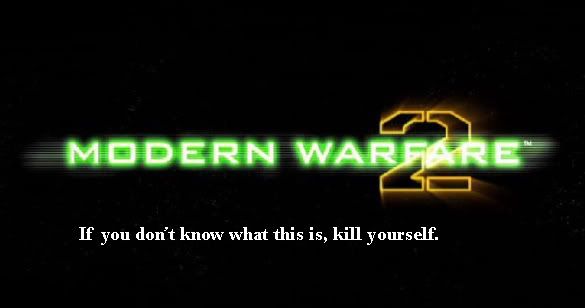 It is, in actuality the most awesome game to come out in 2009! I'm saying that mostly because I bought into the insurmountable hype surrounding this game, and was actually not let down, though this game almost fell victim to the "sequel" disease, where things start to get kinda preachy and unnecessarily deep (Matrix, Halo, Gears of War, me at your mother's place) .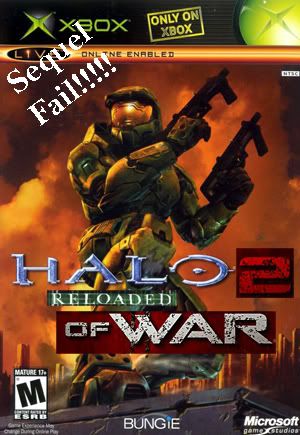 It's usually downhill from there. Thankfully COD MW2 averted "sequel" contamination by not including oracles and just giving us a bunch a shit to shoot.
3 new characters were announced for Super Street Fighter IV!
Cody, Guy, and Adon were added to the mix.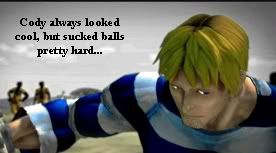 So, along with Juri, T-hawk, and Dee Jay the current new character count is 6, with more to come I've been told (source- the Internets). That's awesome except I don't care about any of these guys. Dudley, anyone?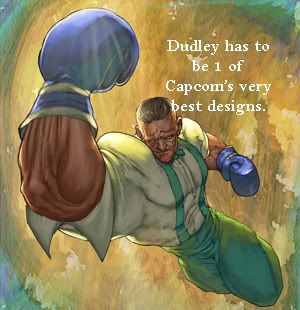 Honestly, SFIV is a broken game imho, the character animations, parry system, and collision detection were top-notch in SFIII, and I don't care how cool Daigo looks playing SFIV Ryu.
http://www.youtube.com/watch?v=VaO024g4WXs
SFIV is fail overall for me. At least if Dudley is there I can have some fun playing the dumb ass thing.
Emg Inside:
In internal EMG news that we care to talk about, we went filming and stuff. I don't know how much of this stuff we can talk about, or how interesting it is. But, stay tuned for updates!! We'll let you know what's going on as it happens!
Would You Hit?
Today's Would You Hit is She hulk. The chick got all big and green after getting a blood transfusion from her cousin, Bruce Banner a.k.a. The Hulk. I can get more into her story, but I don't give a shit I'd hit!!!!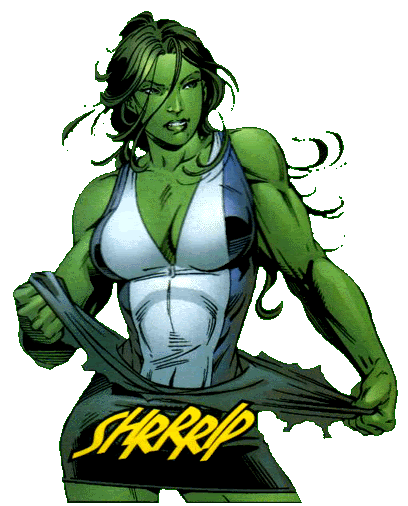 [polldaddy poll=2331512]
Giveaways:
Leave a comment! Give us a news item to discuss. Give us a "Would You Hit" entry. We'll select a name or names at random and then we'll give you something! The first item up for giveaway is one of my used video games, I dunno which one yet cause I'm not home. But if you live in the states, and we choose your comment I'll give you that game! Awesome, no? Ok, I know you want it, so come get it!
Ok, that's all for now. Keep checking in for updates and make sure you vote at the poll! See you next time!
-T out
* Air Date
♣ 12/02/09